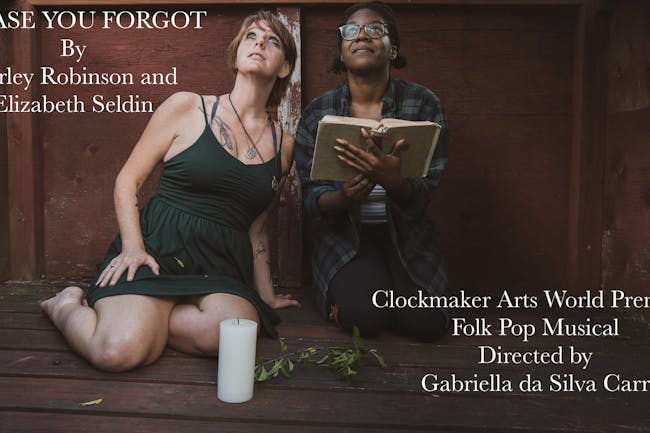 Presented by Clockmaker Arts
IN CASE YOU FORGOT- VIRTUAL PERFORMANCE
IN CASE YOU FORGOT- VIRTUAL PERFORMANCE Viewing Dates: Wednesday October 13th through Wednesday October 20th
The haunted and broken down Old Bennett Inn echoes secrets from the past as two restoration architects with a penchant for the occult, ritual and transformation embark on a journey of healing personal trauma, addiction and racial inequity all while asking the question "how do we engage with change?" World premiere of Clockmaker Arts Folk Pop Musical written by Carley Robinson and Elizabeth Seldin and Directed by Gabriella da Silva Carr.
Clockmaker Arts is a growing theater and film production and training company that seeks to make the world a better place through community connection, professional healthy business practices and art that is focused on transformation through the magic of film and theater. More can be found at Clockmakerarts.com
This production is made possible in part with funding from The Community Arts Partnership of Tompkins County as well as Clockmaker Arts Premier Sponsor: Guthrie. Other sponsors who have made this production possible include Tompkins Trust Company, Dermatology Associates of Ithaca, Alternative Federal Credit Union as well as Clockmaker Arts Media Sponsor: The Ithaca Voice.
Company Sponsorship in part by Centerline Fitness and Martial Arts as well as Little Tree Orchards and Purple Lotus Studio. Photography by Lilac Milk.
Method of Viewing: Ticket holders will be given a private youtube link via their email address on Wednesday October 13th and will be able to view the show any time (streaming 24/7) from when they receive the link to midnight on October 20th. After that the video will no longer be available.
Ticket Purchasing Instructions: Please purchase the amount of tickets per person watching the show instead of devices being watched on. We greatly appreciate it.
Programs: PDF's will be emailed with the link to the show.