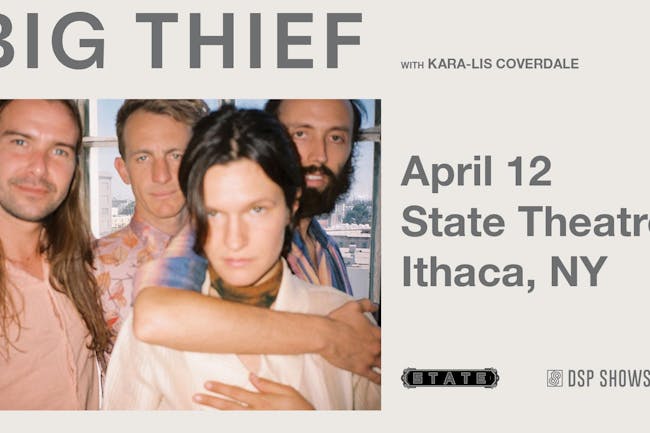 Big Thief
30 miles west of El Paso, surrounded by 3,000 acres of pecan orchards and only a stone's throw from the Mexican border, the band Bi g Thief(a.k.a. Adrianne Lenker, Buck Meek, Max Oleartchik, and James Krivchenia) set up their instruments as close together as possible to capture their most important collection of songs yet. The band had only just finished work on their 3rd album, U.F.O.F. -"the celestial twin"- days before in a cabin studio in the woods of Washington State. Now it was time to birth U.F.O.F.'s sister album -"the earth twin"- Two Hands.
In sharp contrast to the wet environment of the U.F.O.F. session, the southwestern Sonic Ranch studio was chosen for its vast desert location. The 105-degree weather boiled away any clinging memories of the green trees and wet air of the last session. Two Hands had to be completely different— an album about the Earth and the bones beneath it. The songs were recorded live with almost no overdubs. All but two songs feature entirely live vocal takes, leaving Adrianne's voice suspended above the mix in dry air, raw and vulnerable as ever.
Where U.F.O.F. layered mysterious sounds and effects for levitation, Two Hands grounds itself on dried-out, cracked desert dirt.
Anybody who has borne witness to Big Thief in the wild will find songs they recognize here. Much of the album's tracks ("The Toy", "Those Girls", "Shoulders", "Not", "Cut My Hair") have been live staples for years. "Two
Hands has the songs that I'm the most proud of; I can imagine myself singing them when I'm old," says Adrianne. "Musically and lyrically, you can't break it down much further than this. It's already bare-bones." Lyrically this can be felt in the poetic blur of the internal and external. These are political songs without political language. They explore the collective wounds of our Earth. Abstractions of the personal hint at war, environmental destruction, and the traumas that fuel it. Lyrics like "And the blood of the man who killed my mother with his hands is in me/ it's in me/ in my veins" are genuine attempts to point the listener towards the very real dangers that face our mother planet. When Adrianne sings "Please wake up," she's talking directly to the audience. "Attention is power," she says. "I believe you can manifest something on the other side of the world just by using your power well."
Engineer Don Monks and producer Andrew Sarlo, who were both behind U.F.O.F., capture the live energy as instinctually and honestly as possible. The journey of a song from the stage to the record is often a difficult one. Big Thief's advantage is their bond and loving center as a chosen family. They spend almost 100% of their lives together working towards a sound that they all agree upon. A band with this level of togetherness is increasingly uncommon. If you ask drummer James Krivchenia, bassist Max Oleartchik or guitarist Buck Meek how they write their parts, they will describe—passionately—the experience of hearing Adrianne present a new song, listening intently for hints of parts that already exist in the ether and the undertones to draw out with their respective instruments. It is an honor to give life to these intricacies.
With raw power and intimacy, Two Hands folds itself gracefully into Big Thief's impressive discography. This body of work grows deeper and more inspiring with each new album. While you listen, let your own two hands rest in front of your body with palms facing inward and see what power grows between them.
Kara-Lis Coverdale, also known as K-LC, is a Canadian composer, musician, producer, based in Montreal, Quebec. Coverdale is known equally for her piano, organ, and keyboard work as she is for her experimental electronic projects; often her work integrates the two, blurring the lines between traditional composition and research-based modernism.
$1.00 per ticket will be going to charity!
Big Thief have partnered with PLUS1 to support organizations bringing dignity, equity, and access to communities who need it."
BIG THIEF ANNOUNCE NEW ALBUM, DRAGON NEW WARM MOUNTAIN I BELIEVE IN YOU, OUT FEBRUARY 11TH ON 4AD
LISTEN TO MOMENTOUS NEW SINGLE, "TIME ESCAPING"
Big Thief announce their new album, Dragon New Warm Mountain I Believe In You, out February 11th on 4AD, and share a momentous new single," Time Escaping." Dragon New Warm Mountain I Believe in You is a sprawling double-LP exploring the deepest elements and possibilities of Big Thief. To truly dig into all that the music of Adrianne Lenker, Max Oleartchik, Buck Meek, and James Krivchenia desired in 2020, the band decided to write and record a rambling account of growth as individuals, musicians, and chosen family over 4 distinct recording sessions. In Upstate New York, Topanga Canyon, The Rocky Mountains, and Tucson, Arizona, Big Thief spent 5 months in creation and came out with 45 completed songs. The most resonant of this material was edited down into the 20 tracks that make up DNWMIBIY, a fluid and adventurous listen. The album was produced by drummer James Krivchenia who initially pitched the recording concept for DNWMIBIY back in late 2019 with the goal of encapsulating the many different aspects of Adrianne's songwriting and the band onto a single record.
In an attempt to ease back into life as Big Thief after a long stretch of Covid-19 related isolation, the band met up for their first session in the woods of upstate New York. They started the process at Sam Evian's Flying Cloud Recordings, recording on an 8-tracktape machine with Evian at the knobs. It took a while for the band to realign and for the first week of working in the studio, nothing felt right. After a few un-inspired takes the band decided to take an ice-cold dip in the creek behind the house before running back to record in wet swimsuits. That cool water blessing stayed with Big Thief through the rest of the summer and many more intuitive, recording rituals followed. It was here that the band procured "Certainty" and "Sparrow."
For the next session in Topanga Canyon, California, the band intended to explore their bombastic desires and lay down some sonic revelry in the experimental soundscape-friendly hands of engineer Shawn Everett. Several of the songs from this session lyrically explore the areas of Lenker's thought process that she describes as"unabashedly as psychedelic as I naturally think," including "Little Things," which came out of this session. The prepared acoustic guitars and huge stomp beat of today's"Time Escaping" create a matching, otherworldly backdrop for the subconscious dream of timeless, infinite mystery. When her puppy Oso ran into the vocal booth during the final take of the song, Adrianne looked down and spoke " It's Music!" to explain in the best terms possible the reality of what was going on to the confused dog. "It's Music Oso!"
The third session, high in the Colorado Rockies, was set up to be a more traditional Big Thief recording experience, working with UFOF and Two Hands engineer Dom Monks. Monks' attentiveness to song energies and reverence for the first take has become a huge part of the magic of Thief's recent output. One afternoon in the castle-like studio, the band was running through a brand new song " Change" for the first time. Right when they thought it might be time to do a take, Monks came out of the booth to let them know that he'd captured the practice and it was perfect as it was.
The final session, in hot-as-heaven Tucson, Arizona, took place in the home studio of Scott McMicken. The several months of recording had caught up to Big Thief at this point so, in order to bring in some new energy, they invited long-time friend Mat Davidson of Twain to join. This was the first time that Big Thief had ever brought in a 5th instrumentalist for such a significant contribution. His fiddle, and vocals weave a heavy presence throughout the Tucson tracks. If the album's main through-line is its free-play, anything-is-possible energy, then this environment was the perfect spot to conclude its creation — filling the messy living room with laughter, letting the fire blaze in the backyard, and ripping spontaneous, extended jams as trains whistled outside.
All 4 of these sessions, in their varied states of fidelity, style, and mood, when viewed together as one album seem to stand for a more honest, zoomed-out picture of lived experience than would be possible on a traditional, 12 song record. This was exactly what the band hoped would be the outcome of this kind of massive experiment. When Max's mom asked on a phone call what it feels like to be back together with the band playing music for the first time in a year, he described to the best of abilities: "Well it's like, we're a band, we talk, we have different dynamics, we do the breaths, and then we go on stage and suddenly it feels like we are now on a dragon. And we can't really talk because we have to steer this dragon."
The attempt to capture something deeper, wider, and full of mystery, points to the inherent spirit of Big Thief. Traces of this open-hearted, non-dogmatic faith can be felt through previous albums, but here on Dragon New Warm Mountain I Believe In You lives the strongest testament to its existence.
PRE-ORDER DRAGON NEW WARM MOUNTAIN I BELIEVE IN YOU LISTEN TO "LITTLE THINGS" / "SPARROW"
LISTEN TO "CERTAINTY" LISTEN TO "CHANGE"
Venue Information:
State Theatre of Ithaca - DSP
107 West State St.

Ithaca, NY, 14850